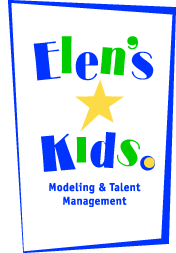 home
(908) 276-1188
info@elenskids.com
109 Miln Street
Cranford, NJ 07016
LIC# BW0432100
Elen's Kids is a New Jersey based Modeling and Talent Agency representing kids from newborns to 18 years old. We submit kids for assignments in print, television, film and theater.
Through the Elen's Kids website, searchable database and business relationships our kids are presented and marketed to the top casting directors, production companies, modeling and talent agencies, commercial photographers, and advertising agencies in the New York metro area.
The Family Owned Elen's Kids Now Celebrating 17 Successful Years. Licensed & Bonded.
Become One of Elen's Kids
Meet Elen's Kids
News & Updates
Feb 1, 2017
Examples of clients our kids worked for during the month of January 2017 include: Madam Secretary, Samsung Commercial, Apple
Commercial, Law & Order SVU, Orange is the New Black, The Affair (TV), Gap, Gotham and etc.
Nicki Minaj: Four of Elen's Kids Sierra G, Kevin L, Tyler M, & Nicholas T will be featured on new TV Pilot starring Nicki Minaj.
Madam Secretary: On April 13, 2016 siblings William & Kaitlyn H shot an episode of Madam Secretary which will air this summer.
LG Mobile: Look for Tate W. in an upcoming LG Mobile Ad.
Feed the Beast: New TV show will feature Elen's Kids on most episodes. Last episode was shot April 29th, 2016.
Follow the Rules (MTV) - Sophia P appeared on the MTV show "Follow the Rules" on Monday, November 2, 2015. She will also appear Monday, November 9 @ 10pm.
Law & Order - SVU: Four of Elen's Kids, Ben, Ryann, Jack & Emily appeared on the episode which aired Tuesday, November 3, 2015.
Good Night Show - Sprout TV.
Tuari W. appeared with Star in both the "Parks" episode, which aired on Wednesday, August 26th, 2015 and also in the "Parents" episode, which aired on Monday, September 14th, 2015.
William R & Julian Z will appear in the HBO series "VINYL". The scene they shot took place August 18th, 2015.
The feature film "Going in Style" will feature Katya S., Bella D, Israel C, and many many more of Elen's Kids in a school scene that shot in Astoria, NY on August 5, 2015
Christopher B. & Nicholas T. are football players in the TV Show "Shades of Blue". Episode shot July 23, 2015.
On July 8, 2105, Connor H. played the roll of Bernie Madoff in an "Untitled Wall Street Mini Series" to be shown on TV.
Awesome C. performed the voice over of a Toy Company toy. Work date was July 16, 2015.
Elen's Kids were in the birthday party scene on the Jim Gaffigan Show which aired July 22, 2015. The episode is called "Red Velvet" and deals with a very serious issue, cake! Great performances by Giancarlo, Antonella, Sidney, RJ & Emmy.
William R. appears in the episode "Out of Darkness" on the Discovery ID Channel. Shoot took place in Glen Ridge, NJ on June 3, 2015.
During a shoot on June 18, 2015, Jack C played the role of Young Bruce Wayne on the TV show Gotham.
Kyle E. shot a Fisher Price TV Commercial May 2, 2015.
Gia & Ella S. did a TV commercial shoot at Camelback Waterpark, PA on May 13, 2015
Yvanna B & Isis E. were the hosts of the National Geographic Web Series that shot on May 5, 2015.
Jessica B, Lauren C. & Keith S shot an episode of Law & Order SVU on May 11, 2015.
Raphael M. was shot for a print ad for Toys R Us on May 13, 2015
Kyma & Kymora P. shot a Sesame Street Music Video Saturday, April 25, 2015.
Naomi, Jax & Dad shot a Sesame Place TV Commercial April 2015.
Mish, Izabela and 7 other of Elen's Kids just completed shooting an episode of the HBO TV Show "Girls" during the month of April 2015.
Kelliann K participated in the LFUSA Fashion Show April 20, 2015
Julian M, Keith S, and Amanda S, are the hosts of National Geographic Web Series.
http://kids.nationalgeographic.com/expl…/ng-kids-on-youtube/
Dominic S booked and worked the Radio City Christmas Spectacular during November and December 2014.
Watch our "Kids Reenact the 2014 Oscars"
http://www.youtube.com/watch?v=0Eca-cs5DGk
http://www.youtube.com/watch?v=1w--HHuBKH4
http://www.youtube.com/watch?v=xX3xLnlzYUk
John O, Dylan R, & Gabriella S appeared in a skit for America's Got Talent. Watch their skit. They appear at around 6.23 seconds in.
https://www.youtube.com/watch?v=FtIla6vCjpk&list=FLX3Uz4aS1JshwEa-jAL11ug
Watch Justin F as mini-Blake Griffin in a Kia national TV commercial. Watch it at http://www.youtube.com/watch?v=WRIJBMIu2Xk
15 of Elen's Kids appear in the Angelique Kidjo Music Video produced for the UN. The video can been seen on the director's site at: http://bit.ly/52Cxxf.
With over 50 million hits, watch Ava G, Jordan O, Madison R and David W in the Eminem Rihanna PARODY "Love the Way you Lie" video at http://bit.ly/deVUXU
Courtney H stars in a commercial for Meep! (kids's Android Tablet) with the voices provided by siblings Chloe and Alex L. Watch it at http://www.youtube.com/watch?v=BIwkfakmFLw
AT&T Wireless hired Lauren C who is the "Anything Possible Girl" for their national TV commercial that initially aired during the 2012 Olympics.
40 of Elen's Kids were hired for the Batman Movie "The Dark Knight" released July 20, 2012.
35 of Elen's Kids were hired for the film "Men in Black 3" movie released May 2012.
Lauren C and Alex L appeared on Dateline NBC Sunday, April 29th, 2012 at 7PM on the show "My Kids Would Never". They played the role of the "Actor".
Tyler C & Kaden B appeared in E-Trade commercials during the 2012 Super Bowl and AFC & NFC Championships Games.
Annabelle and Elizabeth Z and John O appeared with Michael Buble on his NBC Christmas Special.
See more examples on the News & Update Tab
http://elenskids.brandyourself.com/