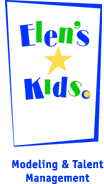 Who We Are
(908) 276-1188
info@elenskids.com
Elen's Kids is a Modeling and Talent Agency representing children from Newborns to 18 years old. We submit our children for jobs in print, television, film and stage. Through the Elen's Kids website, searchable database and business relationships our kids are presented and marketed to the top casting directors, production companies, modeling and talent agencies, commercial photographers, and advertising agencies in the New York metro area.
Elen's Kids always places the best interests of our children first, and has affiliations only with reputable agencies. We personally oversee every aspect of each child's career, to the end result hiring process. We will coach, advise and instruct parents about the details of each assignment to ensure the professional completion of each job.
The safety and security of our children is a top priority at Elen's Kids. Phone numbers and addresses of our children are never provided to anyone outside of Elen's Kids. All communication must come exclusively through the offices of Elen's Kids.
Elen's Kids
109 Miln Street
Cranford, NJ 07016
LIC# BW0432100
If you are interested in setting up a personal interview, please contact Elen's Kids at (908) 276-1188.
http://elenskids.brandyourself.com/
http://www.linkedin.com/in/elenskids