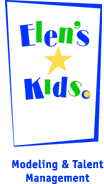 become
109 Miln Street
Cranford, NJ 07016
LIC# BW0432100
Elen's Kids children are selected based on an industry driven criteria of looks, personality, behavior, disposition, talent and availability to ensure that they are qualified to work in the entertainment business. This is determined by a personal interview with the child and both parents conducted by one of Elen's Kids staff interviewers at our corporate headquarters in Cranford, NJ. The interviewing process is very child-friendly and welcoming for the entire family. We are in this business because we adore and respect children, and we take pride in treating them as our family.
If you would like to set up a personal interview with Elen's Kids, please call (908) 276-1188
Parents can take the first step to beginning the application process for our management services by calling us at (908) 276-1188 or complete our optional form below.
Please make sure to fill out the fields marked in blue
Follow the Rules - MTV
Sophia P appeared on the MTV show "Follow the Rules" on Monday, November 2, 2015. She also appeared in the Monday, November 9 episode.
Good Night Show - Sprout TV
Tuari W. appeared with Star in both the "Parks" episode, which aired on Wednesday, August 26th, 2015 and also in the "Parents" episode, which aired Monday, September 14th, 2015.